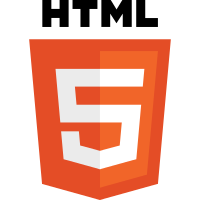 HTML5 is a HyperText Markup Language, used to structure and present web content on the World Wide Web. And, with CSS3/Cascading Style Sheets (Typesetting programming language), it is widely used for development and management of mobile phone applications.
HTML5, With A Competitive Edge
Unlike Adobe Flash (for web animations and cartoons), which has certain limitations on mobile devices, the HTML5 has turned out to be the popular choice of companies for designing and developing responsive websites.
And, here are a few of the features/traits that give HTML5 a competitive edge-
Offline support (local storage of data on the device; web caches for reducing response time)
Canvas drawing (draw graphics for the web, via scripting languages like JavaScript etc.)
Media support (audio-video streaming support, without using any third-party plugin)
Geolocation API (Application Programming Interface) for sharing location details
HTML5 Responsive Websites
HTML5 and CSS3 are used for creating responsive web designs for desktops (personal computers), mobile phones, tablet computers and other. HTML5 ensures that the website/web pages designed look good on different screens, irrespective of the browsers, operating system and/or the device in use.
With HTML5 powered mobile websites, the enterprises can easily embed videos, animations and multi-media files for engaging and driving customers to their business. While using HTML5/CSS3, the companies do not require third-party plug-ins or add-ons in any manner, for streaming/broadcasting audio or video files, with the Internet users.
Besides, the web-caching (offline-caching) HTML feature helps in temporary storage of vital data locally, ensuring better response time for the site users, i.e. the visitors (on the mobile-optimized site) can seamlessly access certain web pages, even without the Internet connection. HTML, this way guarantees better site experience to the users.
Moreover, the cleaner codes used for HTML websites help the developers in effectively managing/maintaining different applications. Furthermore, the 'clean codes' also facilitate the Google bots and web crawlers in indexing the site, better, for guaranteeing improved search engine ranking and online visibility.
Businesses, across the globe, have been using HTML for restructuring their website and presenting the web content in an effective manner. And, the enterprises that want to target customers better and improve the site performance on different web browsers, operating systems, and devices, can think about adopting the HTML technology, without a blink.