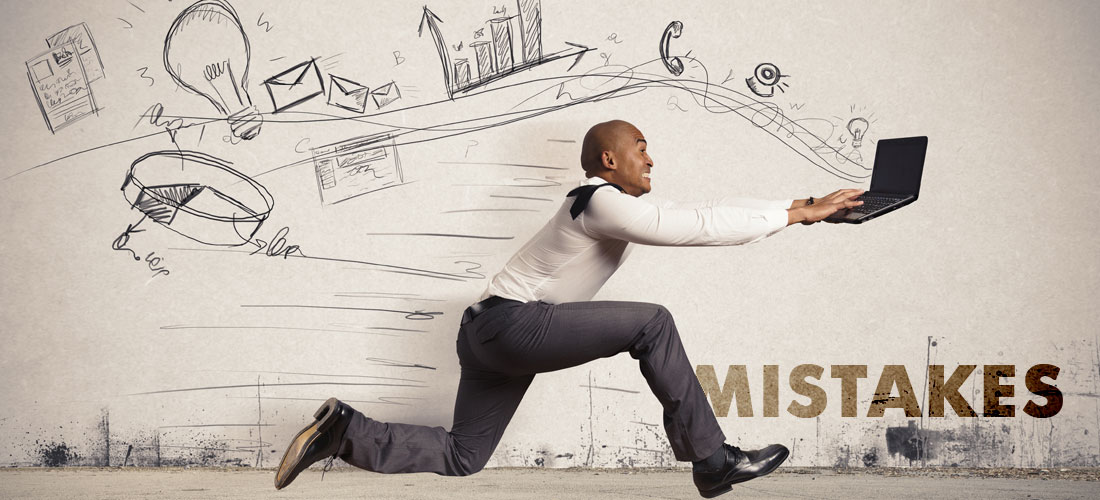 A good/professionally designed website is important for success in business. And the online enterprises that want to establish strong brand identity and drive better web-traffic, need to ascertain that they are not leaving any 'stone unturned' in making a quality business website, free from ERRORS, avoiding common web design mistakes.
Web Design Mistakes That Businesses Make. And It Is Time To Avoid Those
Everyone makes mistakes; however, a wise man learns from the mistakes of others. And here, we are going to talk about how the businesses can avoid common web design mistakes that most web designers make and have a great looking website, for guaranteeing success in the online venture.
For a successful/effective website, businesses should try to consider some of the following aspects, including but not limited to – Appearance, Content, Website Usability, and Functionality.
Appearance Matters
Appearance matters in everything; and the web-designers should ascertain that the website has a professional design, by aesthetically using good color, readable fonts/text, meaningful graphics, photographs/images and other web elements. Please note, simplicity is the ultimate sophistication. And, the web-designers should avoid over-doing things and stuff on the website.
Dark colors, small-sized fonts/text, too many graphics, Flash animations/cartoons and similar would serve no purpose on a website than distract the Internet user. Thus, try to keep things simple and elegant (maintain aesthetic looks) on your website. Refrain from using Flash and multimedia (audio-visuals) files, too much, as these may adversely affect the website performance.
Content is King
Besides, Content is King in every manner. And the business enterprises can drive website traffic better, by including relevant and high-quality content. While working on web content, make sure (of) using proper HTML heading elements (H1, H2, H3 etc.) for engaging the customers. Use appropriate page title, keywords, and description.
Avoid clutter in every manner, by writing long paragraphs and giving 'less white space' on the web-pages. The site visitors 'turn up' usually expecting fresh content from you. Thus, keep on updating web content on a regular basis. Make certain that there are no grammatical, spelling errors in the published content, anywhere.
Improve Usability
Website usability is another important aspect. And, keeping the site simple and organized would be of help. Make sure, the web-pages are quick to load and the data/information is easily accessible (to the site visitor) with minimal scrolls and clicks.
Follow the word 'consistency' while working with layouts on the website. The users appreciate 'easy navigation' on the website. Create links to the HOME page. And, try to limit the menus (as much possible) and use a 'search box' with filters to help and guide the site visitors through different web pages.
Create Sitemaps to guide web-crawlers, as well. Furthermore, with CSS (Cascading Style Sheets), try to style/color the hyperlinks in a different manner, for improving the user experience.
Moreover, give utmost importance to size and screen resolution, while designing a website. The Internet users may not appreciate too much 'horizontal scrolling' on your website. Thus, ascertain your website has a responsive design AND compatible with different browsers, operating systems and devices in use (desktop, mobile phone, tablet computers etc.).
Website Functionality
And then, talking about 'functionality', make certain that your website has no – dead/broken links, in any manner. Find and fix link-breaks, 404 errors and other loop-holes in your website.
Besides, for better online conversions, let the prospects contact you (with inquiries and concerns). Provide contact information 'without a miss' on our website.
Use the contact forms (with less mandatory fields, possible) and provide contact addresses (phone, email ID etc) to help the site visitors 'reach you', in a seamless manner. Integration of a Google Map for  directions would also be helpful.
Make sure that you are not using complex (contact us and/or registration) forms, on your website. Do not complicate things for your prospective customers, any day. Keep them happy AND you will be happy.
So, wait no further; make a note of the points (about the common web design mistakes), discussed above. And, avoid these web design mistakes for getting a professional high-quality website.
For queries and consultation, you can always get in touch with WE3LABS.